Let's call this the "Marcia Syndrome."
If you were a fan of "The Brady Bunch," you will understand where I am going with this. The middle sister, Jan, would always be jealous of Marcia, the eldest, because of all of the things she would get away with. In frustration, Jan would bellow "Marcia, Marcia, Marcia!" It was her vent in questioning her unimportance to the Brady family – or the perceived unimportance of Jan.
Twenty-five years ago, Lexus sold "Marcia" and "Jan" alongside each other as their first offerings as a brand. "Marcia" was the LS 400, the most touted car of 1990. It challenged the notion of what a flagship was at the time with advanced technology, a solid powertrain and luxury that matches up with the rest of the world. It became the first car from Japan to compete on an equal playing field with the likes of the Mercedes-Benz S-Class.
"Jan" was the ES 250.
Many people paid attention to the LS 400, as it was the star attraction at Lexus. They passed up the ES 250 simply because no justified its price. Of course some pundits ruined the car by pondering whether that price justified a gussied-up Toyota Camry without a B-pillar.
As Lexus celebrates its quarter century of existence, it seems that the tables have turned on its original models. "Marcia" is sold at a steady rate and has been equaled, if not exceeded, by its competitors in the flagship field. However, one would argue that the LS 460 and LS 600h L are still serious players in a game where trumping each other with more advanced technology, active safety features and levels of luxury is the name of the game.
Meanwhile, "Jan" has become the big seller amongst passenger cars at Lexus. Though second behind the RX crossover, the ES lineup found plenty of consumers who find its high value and great comfort major plusses. For every LS sold, 7-8 ES models also drive out the same dealership.
Looks like "Jan" got her revenge.
It took the entire history of Lexus to get to this point. But, how did we get there?
The first ES 250 had more issues than just its Camry lineage. The cabin was tighter than a standard Camry of that time. Back then, Camrys did not have the immense amount of interior space they do now. Still, you felt cramped in the first generation ES 250 – and that was a complaint usually reserved for the likes of the BMW 3-Series and Mercedes- Benz C-Class of its time. The original ES was on sale for only two model years.
There is one thing to be said about momentum. That was the introduction of the ES 300 for the 1992 model year. It still rode on a contemporary Camry platform, but began to show its own identity further with its swoopy front end and sculpted body raking all the way to the rear end. It had an identity – and the luxury car market responded. Some people looked back at this second generation ES and wondered "was it worth the $27,000-30,000 back then?" Good question. That is, if you added the then-new GS 300 to the mix, the ES began to carve its niche for luxury sedan buyers that will spend less for one than chase a Mercedes-Benz E-Class or BMW 5-Series.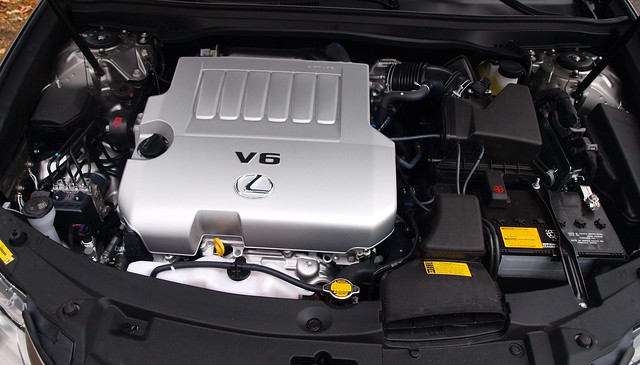 Though the second generation ES was seen as a bit radical, it showcased some of a new design language for Lexus that was also seen in the new SC coupe. Yet, the third generation ES became a bit less radical and more practical – at the same time. New for 1997, the ES 300 morphed into a nice mid-sized sedan sold at a premium price. They tweaked the trunk opening to go down to bumper height. An important detail that helped the ES's cause – a lot.
The ES went back to its radical self for 2002. Those huge headlights were just the beginning of what Lexus thought what a mid-sized luxury sedan should be. However, those headlights helped "Jan" to exact her revenge on "Marcia," because it was this generation that catapulted the ES to become the best-selling luxury sedan in the USA. It even got a new engine by mid-cycle – the ES 330 arrived with a new grille and a new 3.3liter V6 for 2004.
From another dose of radical came a more contemporary ES that fit well with the rest of the Lexus lineup. For 2007, the ES 350 turned a new skin and welcomed the current 3.5liter V6 we know and love. However, it became a target. For 2010, Buick touted its La Crosse sedan for a younger audience – right into the heart of the ES buyer. In turn, Lexus saw the average age of the ES buyer becoming older. It was a Buick picked a fight with Lexus and swapped demographics as a peace offering.
Which brings us to today's ES. This is the first that is not developed alongside the Camry. It is joined at the hip with the Toyota Avalon, however. The Spindle grille was integrated onto a very contemporary, high value mid-sized luxury sedan. This one is perhaps the best ES in its history.
One cannot make that claim without some practical knowledge. In 2013, I drove the ES 300h and ES 350 back-to-back. In all, I found the ES very contemporary and simply fine for its intended audience. Recently, I drove a new ES 350 as a way to not only celebrate the brand's 25th anniversary, but to perhaps confirm what I wrote about the car a year-and-a-half ago.
My conclusion with this lovely ES 350…gee, I gave it away…is that I love it. Yes, even better than my first time during the 2013 Twin Cities Auto Show. The ES 350 was comfy, cozy, warm, enjoyable to drive…and a nice place to be. Not many cars can induce such a response from me.
Then again, it is a Lexus. It is one of the originals – the forgotten one that became the best seller in its class and is the second-best selling model for the brand. Given its history, the ES has always been the one that Lexus owners truly go for. We all want something comfortable, spacious and enjoyable without shelling out a ton of money.
The Lexus ES offers a great choice for anyone looking for a top shelf, front-wheel drive sedan with badge appeal and a full swath of luxury. It is inoffensive and elegant at the same time. Not to mention a serious value for what you get.
For what I drove with a sticker of $44,190, it resolves an issue I had with "mid-sized premium sedans." The average price of comparably equipped model in this class could go up around $60,000. Then again, you get rear-drive or all-wheel drive and more horsepower. However, that $44,190 ES 350 has plenty of advantages than it's more expensive. One such notable advantage is the rear seat room – rather, rear seat comfort. I will even throw in front seat comfort. When I drive a 5-Series, E-Class, CTS or Genesis sedan, you come in with expectations of excellence. Yet, you sacrifice these expectations for the performance, the driveline and spend that extra $9,000-20,000 for the privilege.
This makes the Lexus ES a real winner in this segment. After 25 years, "Jan" has beaten "Marcia" at her own game. Yet, "Marcia" has gone on to play "can you top this" with other flagships priced tens of thousands of dollars more – and, now, less. The ES held the line as perhaps the best value amongst Lexus passenger cars and in the premium car market. It also helps it being comfortable, cozy and so much relaxing and enjoyable to drive. These are not the mark of enthusiasts, but rather one who needs to ease out of a stressful situation or to simply take that leisurely drive far away.
"Jan" has definitely got her groove on. She may be inoffensive and elegant, but she's a much better Lexus than she was 25 years ago.
DISCLAIMER: The vehicle – a 2015 Lexus ES 350 – used in context with this article was provided by Toyota Motor Sales USA
All photos by Randy Stern