Car Shopping on Black Friday?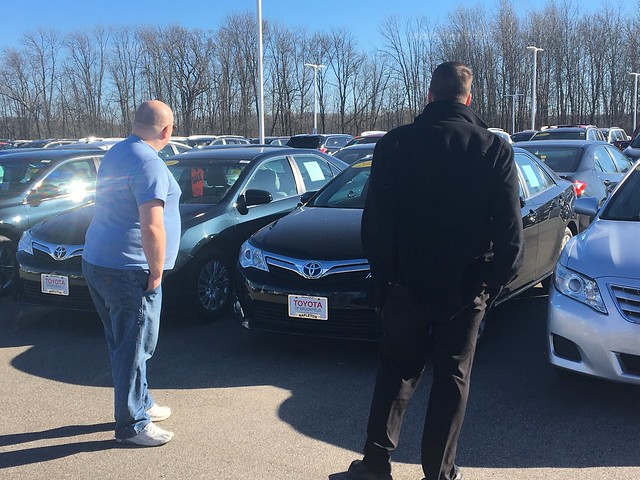 "We're just looking…" – All Photos by Randy Stern
What did you do on Black Friday?
Did you go straight from your Thanksgiving feast to the early openings of your favorite retailer? Or, did you wait until the wee hours of the next morning for your chance at the big bargain?
I did neither of these. I'm glad I did not. I heard reports of arrests and a knife confiscated at a Target store in Eden Prairie, Minnesota – over a Nintendo Switch gaming console. Seriously? Do you want to kill the next person for a bargain on a hot product?
This is why I do not do Black Friday.
Well…Garage Freaks Designs finally released the V&R T-shirt on Black Friday at a discounted price through Cyber Monday. Maybe I was wrong about not doing Black Friday.
However, I did do some Black Friday shopping. More like pre-shopping for a friend whom I was staying with during Thanksgiving weekend.
My dear friend Jason moved over a year ago to Mukwonago, a community southwest of downtown Milwaukee. He had been nursing a 1999 Mercury Mystique, which inherited from his mother years ago. He is hoping to get through another winter with this tired midsized sedan, but he wanted to see what was out there in the marketplace in pre-owned automobiles.
It became one of the reasons for my visit to the Milwaukee area for Thanksgiving – to help Jason form a plan for his next vehicle.
Prior to hitting the lots, I asked him a few questions. Jason stated that he did not want all of the technology available in today's automobiles. He was definitely looking at pre-owned vehicles, which could yield something more attainable and will fit his needs. Jason also stated a budget, which was reasonable for what he could get in the marketplace – around $15,000.
The first thing Jason did was to check Consumer Reports and their ratings on pre-owned vehicles. He went by what was Recommended by CR – the Toyota Camry and Chevrolet Impala. For the latter, Jason focused on the Impala Limited, which was the fleet-only continuation of the 2005 Chevrolet stalwart that sold extremely well until the transition to the newer generation model.
Jason also was intrigued by the Camry Hybrid – in particular, the last generation. In this price range, he found early cycle models that were a bit above his budget but was worth looking at.
A smart consumer would utilize some of the tools available to them – the internet. It is easy to look up inventories at several dealerships to target specific models and price points. It also helped to understand what each dealership was offering – including warranties, Certified programs and other services for customers who need extra coverage on their vehicle.
The night before, Jason fund two such vehicles to look at. One was a 2016 Chevrolet Impala Limited LTZ with 42,000 miles on the odometer; the other was a 2014 Toyota Camry Hybrid XLE with over 34,000 miles on the clock. The former was at the Chevrolet dealer in Mukwonago, while the Toyota was a drive away in the west part of Brookfield.
Black Friday arrived. We slept in a bit, which helped in making getting around easier. Yet, Jason was curious about these two vehicles – and anything else the salespeople would serve as alternatives to these listed vehicles.
Our first stop was Lynch Chevrolet in Mukwonago. The dealership was typical of a small town location while using current brand showroom design. It also shared a lot with their Chrysler Dodge Jeep Ram showroom, which fits quite well with the 2017 Jeep Renegade Deserthawk I drove Jason around in.
At Lynch, we tried to spot the Impala Limited ourselves. Jason thought it was white, yet it turned out to be a dark gray color. The LTZ trim was fully loaded, but devoid of a touchscreen and complicated technology bits. Jason tried his hand at getting into the driver's seat. After a few adjustments, he was comfortable, at least. The problem was exiting the car. Jason is by no means a small person, especially when his torso is clearly longer than his legs on a 5-foot-11-inch frame. Because of this, negotiating the exit from the Impala Limited's driver's seat was indeed a concern for him.
The salesman showed Jason a 2014 Chevrolet Equinox LS AWD that was in the same price range as the Impala Limited. This was indeed a microcosm of how the SUV has been taking over the sedan market – the move to a step-up/in access to the driver's seat. While Jason had no trouble with the entry and exit, he found himself a bit claustrophobic behind the wheel. I also pointed out some of the idiosyncrasies of the last generation Equinox in terms of ergonomics. He simply said "no" to the Equinox as he felt that an SUV would not be right for him.
In terms of the experience at Lynch, Jason and I experienced a few more concerns at our time at his local Chevrolet dealer. One was a remark by the salesman regarding Jason's Mercury. It is not professional or proper to make negative and snarky remarks about a vehicle that could be used as a trade-in. I also did not get the vibe that he wanted to work with Jason after he discussed the entry-and-exit issue with the Impala Limited and the driver's area space inside of the Equinox. We walked off the lot without the salesman's business card. Not a good sign on how business was supposed to conducted.
Our second and last stop was to Toyota of Brookfield on West Capitol Drive. This was formerly Jack Safrio Toyota before the Napleton dealer group bought it. Napleton had been expanding into the Milwaukee market from Chicago, which made me wonder what kind of quality we would have from their staff.
Jason and I arrived at Toyota of Brookfield and found the car he was looking for – a black 2014 Camry Hybrid XLE with gray cloth interior. It was not fully equipped, which was fine for Jason's tastes. It also carried a discount on sale that day of over $5,000 from the regular price. Yet, it had the Entune touchscreen, something Jason did not want. Unfortunately, we found that the touchscreen is an integral part of the last generation Camry – no matter which trim level he looked at.
The salesman approached us and Jason discussed what he was looking for while focusing on the Camry Hybrid. After the salesman got the keys, things became a bit better for Jason. The entry and exit from the driver's seat were better than the Impala Limited and he found proper room behind the wheel of the Camry. We talked about a few things on the vehicle, which began to impress him.
The one thing we did not get at Lynch was a test drive. The salesman at Toyota of Brookfield offered one on the Camry Hybrid. Jason and I set off and he gave the sustainable luxury Camry a try.
Let me say this: Jason liked the Camry Hybrid. It drove well for him and he came away impressed by the pickup from the gas-electric driveline. In comparison, Jason took out a less expensive 2014 LE sedan to see the difference between the four-cylinder gas driveline and the Hybrid one. The conclusion was the same with the advantage on the Camry Hybrid. However, Jason seemed to be warming up to the XLE trim over the LE for some reason. He stated that it was the automatic climate control on the XLE that pipped the Hybrid over the standard-issue LE. Jason also stated one thing he liked about the Camry in general – the fold-in mirrors. It is the one detail he appreciated to ensure a safer drive. For the record, the Impala Limited did not have them.
Though I felt kind of uncomfortable with the salesman we had at Toyota of Brookfield, Jason was glad to work with him. We left with his business card – a huge plus in ensuring that Jason will do business with them in the future.
Telling these encounters at automotive retailers reveal a few things about the car shopping experience. When you do not know anything about the dealership, its staff, inventory flow, and reputation, you come in cold and find yourself trapped in its practices. It is good to have some knowledge before you go. Look at Google and Yelp reviews of dealerships, while you are looking at inventory online. Have friends or coworkers tell you their experiences of shopping at a particular dealership. Arm yourself with knowledge before a salesperson approaches you.
As for Jason, the hunt has begun for next year. He has some ideas, but he also has options. Some of those options include going outside of the Milwaukee area for a dealer I know people at…but, of course, that would be up to him.
If you were shopping for a new vehicle on Black Friday, I would hope you had a great experience in getting the best value for your new ride that day. If you did not sign anything at the dealership, keep on looking – but look smarter for your next vehicle.