Not The Turkey…or The Stuffing
What goes well with Thanksgiving?
Turkey is a given. Some people substitute it with Tofurky, but others will tell those who eat it that it's not what the Wampanoag tribe and the Pilgrims/Puritans had in mind. Cranberries, which are natural for New England. Stuffing…which comes down to bread, vegetables, and seasoning if you consider the basics.
OK…how about a Jeep?
Jeep. The most important implement of victory in World War II. Made into a civilian at war's end only to be traded through several hands before becoming the brightest asset of Fiat Chrysler Automobiles' global product portfolio.
Unlike Arlo Guthrie's traditional long-form recording heard on Adult Album-Oriented Rock stations across the USA, the Jeep story is something of "tradition" within this work. It started in 2010 when I rented a Wrangler Unlimited Sport to go to a friend's Thanksgiving in the area. Somehow, everyone wanted a ride in the dark green beast. I can't recall if we did those rides before or after the feast.
Two years later, I tried my hand at social media influencing when I tied in another Wrangler Unlimited with the Open Table app to find a Thanksgiving feast in the Twin Cities. It worked, despite the change in weather from sunshine to snow.
A couple of years ago, another Jeep became my ride to another Thanksgiving just outside of the Twin Cities. Who knew that it would spur on the hosts to get their own Renegade?
Welcome to another Thanksgiving! And, to another Jeep. Like I said, it's becoming a tradition around here.
While the Jeep is familiar – a 2017 Renegade – it is a bit different than most. It is really a Trailhawk, the best way to do your "Jeep thing" without paying for a Wrangler. The rule of thumb these days is that to experience a Wrangler (or Wrangler Unlimited) in any other vehicle in the Jeep lineup, you pick the Trailhawk. Trailhawks give you the 4WD-Lo gear one needs in extreme traction conditions and other electronic aids that give it more capability than other trim levels within the lineup.
While it is Trailhawk, Jeep also added another layer to this particular Thanksgiving Renegade. Jeep loves to sell limited editions on top of their core offerings. While you can get a Wrangler JK as a Sport, Sahara, or Rubicon, you can't ignore the five additional limited editions that are sold alongside the core trim levels. Therefore, the Renegade Trailhawk I drove over Thanksgiving is called the Deserthawk.
The Desetthawk is an appearance package on top of the Trailhawk. There are decals on the hood and rear quarter roof panel, off-road rock rails, and a specific seat upholstery. Other than that, it is all Trailhawk with the Select-Terrain system with Active Drive Low – the aforementioned 4WD Lo setting – and all the primary capability found on the iconic Wrangler JK. It also comes with the 180-horsepower 2.4-liter Multiair II "Tigershark" engine with the nine-speed automatic transmission.
No matter what you call it, this is the best SUV in its class. The Italian-made subcompact Renegade Trail…er, Deserthawk…is ready to tackle…the colder climates of the Upper Midwest. But, can it tackle one of the busiest travel periods in this country?
Unlike the last three Jeeps driven during Thanksgiving in years past, this Renegade has the task of being driven over a longer distance. My ultimate destination was the exurban community of Mukwonago, Wisconsin. This small community located southwest of downtown Milwaukee became the base of everything Thanksgiving-related. This was the home of a very dear friend, Jason, who became my host, travel companion and my guide to a very different Thanksgiving celebration.
The Renegade Deserthawk's adventure began Tuesday afternoon with an overnight stop in Eau Claire. This was designed to break up the trip between the Twin Cities and Milwaukee metro areas. I could have positioned myself further along – La Crosse, Tomah, and the Wisconsin Dells were considered. I found a deal for a hotel in Eau Claire and spent the first night there.
A bonus to my Eau Claire intermediary stop was a new friend who happens to be a collector and restorer of classic Cadillacs. He also happened to be the owner of the Classic Garage diner in Eau Claire, as well. Inside of Rick's diner was one of his three priced 1955 Cadillac two-door hardtops – a light yellow Series 62 Coupe. It was stunning, along with its blue interior and fine details. His other two 1955 Cadillacs were Coupe de Villes – upgrades within the Series 62 lineup.
I saw the other 1955s at another property Rick had near Chippewa Falls. In his stable was a 1975 Fleetwood Talisman – a very special edition with the plushest interior of its era. I could go on with the number of other period Cadillacs, Pontiac Firebirds, and other assorted vehicles, but I was amazed on how Rick presented every piece of his collection along with a string of locales across the Chippewa Valley.
An early Wednesday departure sent me down Interstate 94 towards Milwaukee. Over the past 17 years, this stretch of highway has become all too familiar to me. In the past few years, I have sent down an assortment of vehicles that may be seen as "wrong"\ for the drive. The Renegade Deserthawk soldiered on, showing off some of its advantages. The size alone helps in maneuverability, as it does not take a lot of space to do lane changes. UConnect also became an advantage, with great Bluetooth connectivity to my mobile phone, emulating strong signals along the Interstate.
My arrival into Milwaukee yielded some errands before meeting Jason at his workplace. The Renegade Deserthawk showed not only its size but the package's uniqueness as it was easier to find in the densest of parking lots and garages.
That night, Jason and I went back to Fork in the Road in Mukwonago. I have to admit that this is now a tradition to visit this wonderful restaurant whenever I come see Jason. It has become a regular spot for me.
Thursday was the day of the annual feast of thanks. You expect a table for a feast of turkey, stuffing, potatoes and other garnishments as envisioned from the days of the original harvest gathering. There had been some alterations to this tradition over the years. The obligation to spend it with your blood relatives exist, but it is not a primary element anymore. Friends who can gather away from their families found Thanksgiving as Friendsgiving. It is a way for people to come together who may have spent it alone otherwise.
Jason included me in his trek to a Friendsgiving he had been going to in Madison. The couple hosting was wonderful and fun, as they opened up their home to Jason, myself and other fellow community members, centered on the Madison Gay Hockey Association. As untraditional as this Thanksgiving celebration, so was the food. There was no turkey or stuffing or any traditional table setting. We had grilled cheese sandwiches with a choice of cheeses, meats, and garnishments. We had potatoes that were more au gratin but served without a baked sauce. We had Dim Sum, which was a last minute replacement for rotisserie chicken due to an early closure of a nearby grocery store. Again, this was not a traditional feast, but the people who gathered made it a warm feeling nonetheless.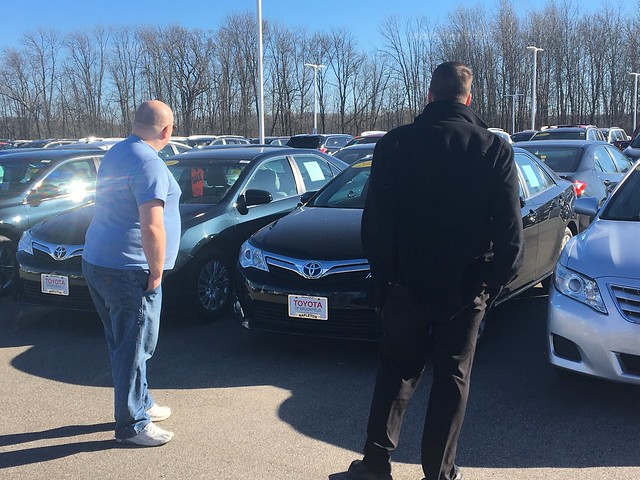 As Thanksgiving became Black Friday, we set off to do something that Jason was planning on doing in 2018 – replace his old 1999 Mercury Mystique. I covered this in a separate piece.
After dropping off Jason, I took a drive further into Milwaukee. It was about trying to find a Black Friday bargain of my own. I did find a superb music store in New Berlin. In every city, I always want to find myself in a musical instrument store that offered a garden of percussion – not just one cheap conga set, a cheap pair of bongos, some cajons and a lot of drum sets. This place, Cascio Interstate Music, opened up my eyes. Usually, I go to a place and LP (my current brand for hand drums/percussion) would be prominent. This place had a pair of congas from Remo and a trio from Pearl. Rarely do I see those brands in the Twin Cities. They sounded superb and wished there was more than enough money to take one home…perhaps to upset poor Boomer.
Sorry for my off-topic geek moment…but, you understand that this writer's life is not all automobiles all the time…
What made Friday interesting was the weather. It was sunny and in the 60s. This is not the kind of weather you would expect in Wisconsin during this time of year. It did make it more pleasurable and enjoyable.
My final full day in Wisconsin begged for a side jaunt for Jason to see an old Madison friend in Menasha. I originally wanted to add a stop at a car dealer for Jason to look at other vehicles, but I did not realize that a friend who works at a store in Appleton was not in sales. I always like to work with people I know and are comfortable with – that includes referring my friends.
The side trip to Menasha was delightful. Not just because of the company – Jason and his friend Michael – but of the small businesses that we patronized in the quaint downtown area. The WeatherVane is a delightful brunch spot with great food and wonderful atmosphere. A coffeehouse called Your Daily Grind was just a few doors down and celebrated Small Business Saturday with its one-year anniversary. All of this was worth the outing up into the Fox Valley.
My last night with Jason was spent going out to one final meal at a nearby restaurant and fighting a cough. I felt slightly better in the morning.
I was conflicted. I had to head home for there is a lot of work to be done the following week. Yet, I did not want to leave. If one thing was to sum up my time away for Thanksgiving with him – he was worth it. He still is.
I returned home. Another Thanksgiving, another Jeep. There were a few disappointments, such as the 22.6 MPG average I turned during my time away from home. The fact that the Renegade Deserthawk came with a sticker price of $33,665. It may have appeared to not be the right vehicle for this job. Yet, the fact that it survived a Thanksgiving away from home earned its own points for the effort.
Who knows what next year's Thanksgiving will yield?
DISCLAIMER: Vehicle provided by Fiat Chrysler Automobiles
All photos by Randy Stern